Home and Family
K-State Research and Extension is a leader in providing research-based information and education for creating strong, healthy Kansas communities. We strive to improve family relationships, develop consumer and financial management skills and help Kansans balance the demands of work, family and community.
Use the links to your left for more information about family nutrition, parenting, food safety, Medicare and aging, and other important topics.
2-Minute Nuggets of Truth for Families
Take a 2-minute break to listen in on the radio series "Families Matter" with Deb Andres, Family & Consumer Sciences Agent. Each month offers a unique series of short audio segments that can help individuals and families live life to the fullest. Just click on the "Listen" button next to each program in the series.
January, 2023: Lean in to 2023: Ditch the New Year's Resolutions and Take Charge in 2023
February, 2023: American Heart Month - Make Heart Health a Priority
March, 2023: On the Move in March
Practical L.I.F.E. Series
Check out the Lessons for Individual and Family Enrichment series offered every 2nd Friday at the Dorothy Bramlage Public Library from 10:00-11:00 AM. Registration is required but the lessons are free. Pick one or more to attend. We look forward to seeing you there!
Click HERE for a flyer on the LIFE series. For more information on what each session will be about click HERE.
Sound Living Podcasts:
As we begin a new year, Kansas State University child development specialist Bradford Wiles suggests reflecting on the things we do well because we want to maintain those things while we try to improve in other areas. For parents, he recommends they pause and reflect on ways that will best help children develop as they work through adolescence. He says engaging in a daily dialogue with children from a young age demonstrates parents are really interested in their lives. It's by being present and responsive to their needs that parents can model life skills to their children.
Sound Living is a weekly public affairs program addressing issues related to families and consumers, hosted by Jeff Wichman. Each episode shares the expertise of K-State specialists in fields such as child nutrition, food safety, adult development and aging, youth development, family resource management, physical fitness and more.
To listen to Sound Living podcasts, click HERE!
New Resources:
Youth Mental Health Call to Arms
Families and caregivers serve as an inner circle of support for youth and are critical in providing the environments in which they can thrive. The 2021 U.S. Surgeon General Advisory: Protecting Youth Mental Health, shares the data behind the call to arms to address a growing challenge in the area of youth mental health. You can read or download the full article HERE.
Are You Heart Smart?
Even though February is American Heart Month, it's important to take stock in your heart health throughout the year! HERE is the Heart Smart Basics fact sheet to help you get started. Self-Care is essential when it comes to prevent chronic diseases. In the United States, someone has a heart attack every 40 seconds. Improving your self-care habits can reduce your risk of heart attack. The National Heart, Lung, and Blood Institute offers timely information to help you learn about what you can do to keep your heart healthy. HERE is the Self-Care Tip Sheet to get you on the right track.
Case for a Cause event returns to the 2023 Geary County Free Fair
Are you looking for a quick and easy project to do with your children or grandchildren this summer? Check out the Case for a Cause project sponsored by the Geary County Free Fair Board! This community service project is a great way to use up left over fabric pieces and perhaps teach our youth to sew AND to give back to the community. You can find the details about the event HERE. If you need some guideance on making a simple pillowcase, check out this short instruction VIDEO created by Jenny Doan of the Missouri Star Quilt Company. Our goal is to donate 50 pillowcases this fall. Join us in bringing smiles to those in need!
Live Well Geary County and K-State Research & Extension are working together to instill policies, systems, and environmental changes to improve the ability for Geary County residents to live with improved healthy habits! The non-profit organization is launching a new pilot program for Seniors. Healthy Together is a weekly FREE healthy meal offered to senior citizens to help them enjoy fellowship, fun, and food. Click HERE for more information about the program. Interested in learning more about Live Well Geary County's work in the area? Read the Pathways to Kansas Blue Cross/Blue Shield 2021 grant impact summary HERE!
Confronting Hypertension: Looking for a healthful way to help reduce your blood pressure? First, make sure you talk to your physician about your concerns and follow their medical guidance. Next, take steps to make diatary changes that can get you the most for your efforts. The Colorado State University Extension Service offers a great resource on diet and hypertension. Click HERE to download the fact sheet.
Handwashing for Health: Something as simple as hand washing can help keep you and your family safe and healthy. You can download a hand washing poster HERE to remind children and adults how to wash their hands to stay healthy and safe from COVID19! For a quick video review, click HERE!
Strengthening Families Protective Factors Framework: Protective factors are characteristics or strengths of individuals, families, communities or societies that act to mitigate risks and promote positive well-being and healthy development. Most often, we see them as attributes that help families to successfully navigate difficult situations. What a better time than now to learn more about these protective factors and discover ways you can develop them in your family relationships? A quick read fact sheet on the Framework can be downloaded HERE. Check out the fun family activities that promote the protective factors in families found on the Family Life tab.
Strengthening Families 7-17 is a program designed to equip children with pro-social skills while supporting parents as they navigate through the many challenges that come with their role. Call the Geary County K-State Research and Extension office, 785-238-4161, to find out when and where the next class is being offered.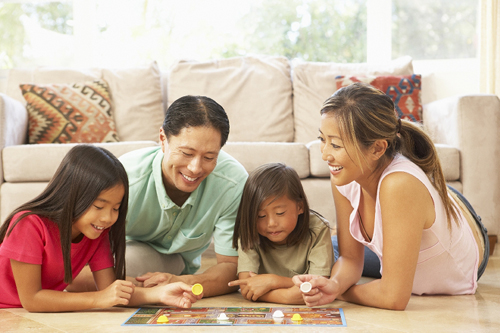 Save