Walk Kansas
Walk Kansas is an annual health and wellness program sponsored by K-State Research and Extension. The goal of this 8-week program is to increase physical activity, increase the consumption of fruits and vegetables, and have fun with family and friends while improving your lifestyle. The program uses a 6-member team approach to:
be more active with friends and family,
make better nutrition choices,
and walk away your stress
For answers to frequently asked questions about Walk Kansas Click HERE.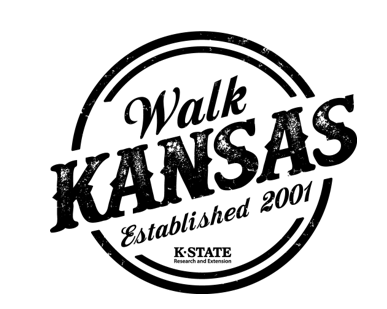 Walk Kansas 2023: March 26 to May 20!

Junction City Parks & Trails Map
This map shows you 8 local trails that offer a great place to walk. Trails range in length from 1/3 mile up to over 4 miles. Pick your effort level and set a goal to "hit the trail." You can access the map by clicking HERE.
Descriptions of these trails and more can be found HERE.
Walk Kansas Resources
Linked below are resources that may be helpful for Captains and Participants.
Click HERE for the 2023 Captain Guide. This guide will walk you through enrolling your team as well as navigating the Walk Kansas logging page.
Click HERE for the 2023 Participant Guide. This guide will help participants understand how to log their activity as well as answering other questions.
Click HERE for the 2023 Activity Guide. This guide will help you understand how to account for your daily activity as well as giving you helpful tips and seeing the progress you made throughout Walk Kansas.